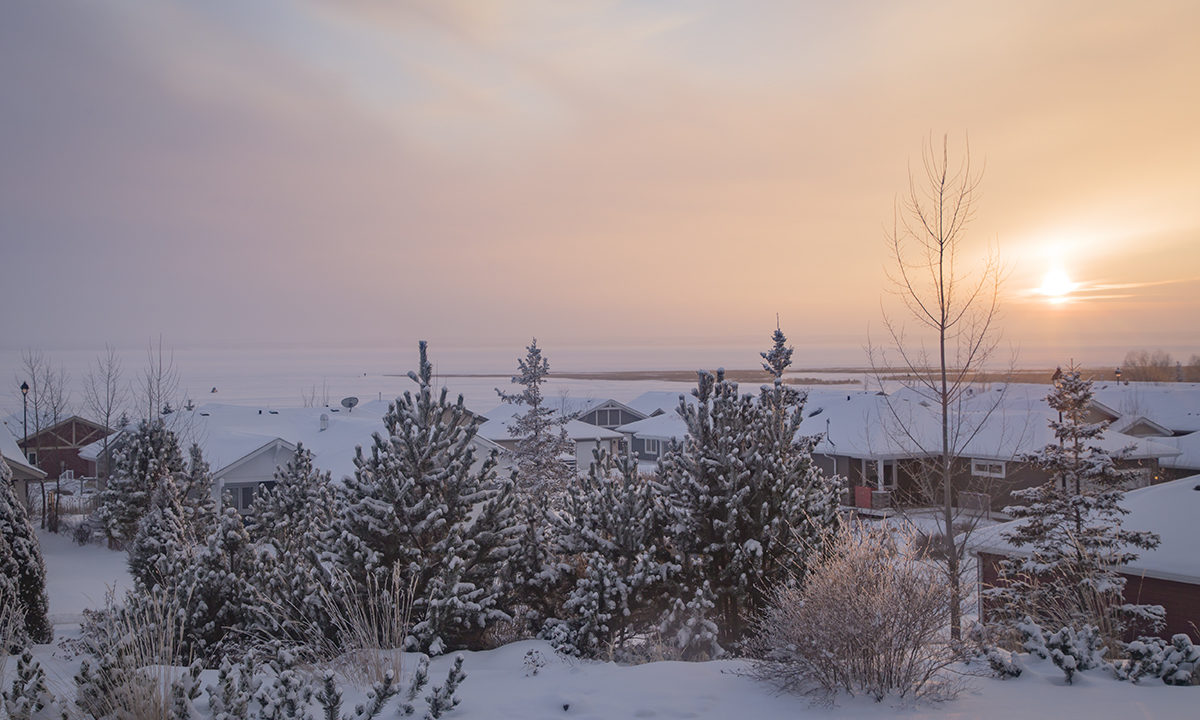 Staying Home for Winter at the Lake
It's getting to that time of year where snowbirds take off for warmer destinations, this year may look a little different. One thing COVID has highlighted is that there's so much in our own backyard that we haven't thought to explore. You may or may not be flying south for the winter, but regardless of what you decide, you have the option of spending some of your time in the warmth of your cozy lake home, away from urban anxieties and fully embrace the all season lifestyle Waters Edge offers!
One of the best things about Waters Edge is the community itself! During these strange times we're living in, the people right in your backyard are key to making it through. There is no better place to get outside and socialize safely with those that live close by. It may be chilly, but there's no denying that winter in Alberta offers some of the most beautiful scenery and with that, some pretty awesome winter activities. In the area surrounding Waters Edge, you have ice skating, cross country skiing, sledding and ice fishing right at your fingertips! Especially with the holidays approaching, there are some magical activities you can experience, like picking the perfect Christmas tree and fireworks- read more about those here!
Get together with your neighbours for a winter bonfire in the yard, venture out on the lake for an afternoon of ski-dooing or ice fishing, or do some tobogganing on the property (there are some great spots where that natural topography of the community gives you that perfect slope).
Take comfort in the fact that everyone has to stick around home this winter- invite family and friends out to visit, as they too will have a pretty boring winter ahead. Be THE destination- with all these opportunities for fun and adventure, you're going to have a waitlist of people wanting to visit!
Fall Lot Incentive!
There's no better time than Fall to buy a lake lot! We're offering 10% off a Lot purchase, first come first serve- limited supply! We have several options to meet your personal taste and timing needs. Planning for the future? You can buy a lot and build later. In a hurry? Select a quick possession home. Looking to customize? Work with our award winning in-house registered architect and our interior designer to create a custom home. Want to simplify? Choose from one of our floorplans and select from our interior finish schemes. Contact us to get started!
Amenities Right in Your Backyard!
We offer a large variety of amenities on-site at Waters Edge that residents can access at any time, year-round! Our clubhouse is the perfect place to host family get-togethers (safely + responsibly) and has plenty of space and a fireplace to create that warm and cozy atmosphere that is a must in the winter! Our Fitness Centre has a selection of gym equipment to help you stay active year round and looks out towards the lake. We like to think working out is easier with a lake view- anyone else feel the same?!
In the winter months it's not only the view of the lake that is yours to enjoy- there are activities on the lake that can also be enjoyed! Are you an ice fishing enthusiast? The lake is vast and yours for the taking. Is hockey or recreational skating more to your liking? A large skating rink is plowed on the ice, providing fun for your entire family! We have a skate change shack for you to put on your skates comfortably and a place to go to warm up on those colder days. This is THE year to take advantage of the rink and skating path! You'll also find trails all around the property for your use to get those steps in should you fancy a winter walk. See more of our amenities here.
Lake Homes Made for All Seasons!
Let's face it, we know that winter in Alberta is quite a long season. Our team has designed our lake homes with this in mind.
Homes are designed with a statement fireplace, to keep your humble abode feeling warm and welcoming. Large, oversized windows not only showcase the stunning views, but also bring in so much light from the sun and the bright, white snow. Covered decks give you that element of outdoor living- all you need is a heater and a blanket and you can enjoy the views from another space of your house. Our walkout basements also ensure that your home feels as bright and airy as it can, which is greatly appreciated as the days get shorter. For more details on available homes click here.
While it may be uncertain about heading to your favourite tropical destination this time of year, consider these circumstances a great opportunity to truly appreciate the beauty around us and all the activities that our northern home has to offer. The Estates at Waters Edge has such a unique location- close to city comforts, but far enough to have easy access to endless winter adventures. Contact us to learn more!